Goat Milk Soaps
$3.99 – $4.99
Description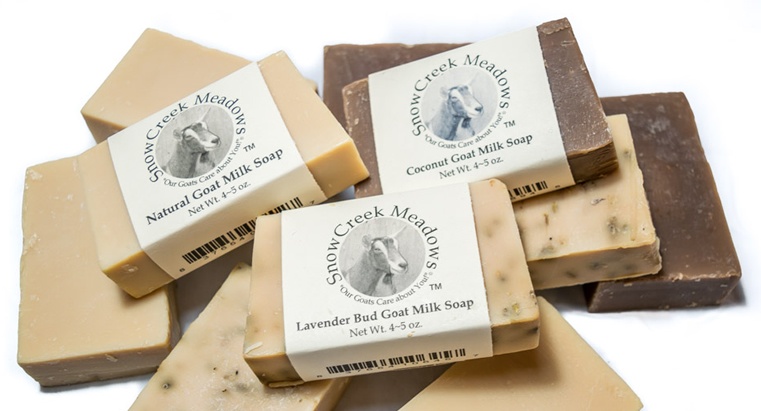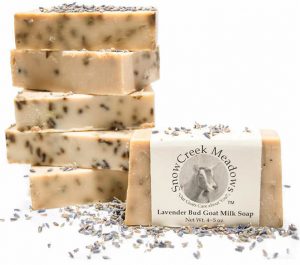 Goat milk soaps are completely natural, free from preservatives, colors, and made from farm fresh goats milk. The soap provides the skin with the nourishment and moisture it needs to stay healthy and to slow the effects of aging. It is high in vitamins, minerals, and proteins that are not found in other soaps.
Ingredients: Non-hydrogenated palm oil, Goat Milk, Olive Oil, Safflower Oil, Sodium Hydroxide, Sugar, Glycerine, Essential Oils.
New Scents:
NEW: Barnyard Dirt Soap (Clove Bud Essential Oil, Eucalyptus Essential Oil, Cedarwood Essential Oil, Brazilian Clay, Pumice Sand)
NEW: Nashville Nights Soap (Patchouli Essential Oil, Lavender Essential Oil, Tea Tree Essential Oil, Charcoal)
NEW: Tennessee Tomato Soap (Tomato Powder, Basil Essential Oil, Cedarwood Essential Oil)
NEW: Tennessee River Soap (Lemon Essential Oil, Lime Essential Oil, Lemongrass Essential Oil)
Scents:
Charcoal (Lavender, Tea Tree fragrance)
Coconut
Lavender-Mint-Nettle
Lavender Bud
Natural Unscented
Oatmeal
Orange
Mint Leaf
Miss Hippie (Orange, Patchouli, Lavender)
Pink Grapefruit
4 – 5 Ounce Bars $3.99 ea.
---
Additional information
| | |
| --- | --- |
| Weight | .125 lbs |
| Scents | Barnyard Dirt Soap, Charcoal (Lavender, Tea Tree fragrance), Coconut, Hometown Christmas, Lavender Bud, Lavender-Mint-Nettle, Luau Breeze, Mint Leaf, Miss Hippie (Orange, Patchouli, Lavender), Nashville Nights (soap), Natural Unscented, Oatmeal, Orange, Pink Grapefruit, Summer Berry, Tennessee River (soap), Tennessee Tomato (soap) |